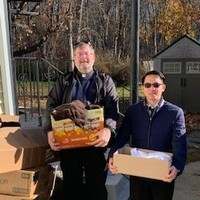 Donations to Street Fire Ministry to help the poor
Nov 11, 2022
Rev. Edward J. Przygocki, M.S.A.
For several years now members of the local MSA community in Cromwell have taken a St. Francis of Assisi collection of new and used clothing and living supplies for the poor in Middletown, Connecticut, through a Christian organization called Street Fire Ministries.
Bro. Dan Valente has undertaken this annual project with the cooperation of several postulants. Pictured here with Br. Dan is Joseph Thấu van Duong.
As of 2014 the missionaries are aggregated to the Franciscan family and thus every October assume the opportunity to reach out with next to 10 boxes and suitcases of clothing and other supplies.
A heart filled thanks to all the missionaries who contributed and made this a worthy 2022 collection.
Pax et Bonum!
Go Back