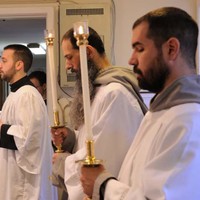 Give a Priest to the Church
Information for members of the laity who want to support our seminarians (Priests in Formation).
Support a Seminarian, Create a Priest, Accomplish Christ's Mission
If you would like to support our efforts to build orthodox, faithful priests for the Roman Catholic Church in the United States, please help us with your one-time or ongoing contribution to our MSA Tuition Fund. All contributions are tax-deductable.
"Anyone who welcomes you welcomes me, and anyone who welcomes me welcomes the one who sent me. Whoever welcomes a prophet as a prophet will receive a prophet's reward, and whoever welcomes a righteous person as a righteous person will receive a righteous person's reward. And if anyone gives even a cup of cold water to one of these little ones who is my disciple, truly I tell you, that person will certainly not lose their reward." (Matthew 10:40-42)
Mail checks to:
Bursar, Society of the Missionaries of Holy Apostles
22 Prospect Hill Road
Cromwell, CT 06416
Make payable to "MSA", and note in the check memo: "Tuition Fund".
We also accept donations by credit card, please use the secure form below.