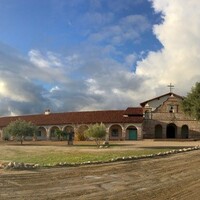 Annual Retreat at the Old Mission San Antonio —"Resting in the Real Presence of Christ."
Jul 19, 2022
Rev. Jeffrey (Skip) Thompson, M.S.A.
The old Mission San Antonio in the Monterey Diocese of California (not Texas) is the venue for Fr. Skip Thompson's "open" retreat, which began in 2016 after his ordination at the Carmel Mission Basilica back in 2015. The pandemic upset the sequence of offerings in 2020 and 2021, but it was back for 2022! With the permission of current Bishop Daniel Garcia, Fr. Skip offered his 5th annual retreat at Mission San Antonio between Friday, May 20th and Sunday, May 22nd.
As a retreat location the Mission San Antonio is the best kept secret in California! It is the only mission where visitors can actually stay overnight inside the historic cloister and be immersed in the quiet, rustic atmosphere of Franciscan spirituality. It is sacred ground. It was founded by St. Junipero Serra, personally, in 1771 to bring the Gospel to the indigenous people of the New World. It is the 3rd mission of 21 in the "mission chain" — after San Diego in 1769 and Monterey in 1770.
The mission is situated on a military base that has kept the mission site pristine. You see today what St. Junipero Serra saw two and a half centuries ago. The nearest town, King City, is 23 miles away. The mission is remote and its peace and quiet is just what the spiritual doctor ordered — to counter the disquiet and distractions of the secular culture.
Twenty four rooms were reserved — and filled — to host a total of 29 participants: men, women and married couples. After the official program ended eleven participants lingered on site for an additional night — an endorsement by reluctance to leave!
Fr. Skip's 4 Eucharistic conferences explored: "The Realities of the Incarnate Word; How Jesus taught His Real Presence; Transubstantiation and Science; and Our Participation in Divinity." One Protestant retreatant who first attended in 2019 returned in 2022 and announced that she had just decided join the Catholic Church!
Partnership with laity is crucial component for the success of our MSA apostolate! Joe Simeone, an old Baptist friend of Fr. Skip and also a revert to the Catholic faith, is a fine amatuer chef who graced us with his culinary skills all weekend. Fr. Skip recognized Joe's essential contribution declaring: "Without the priest there is no Mass; but without the cook, there is no retreat!" There was agreement and appluase.
Br. Ronnie Aucoin, who joined us from Cromwell, CT and Holy Apostles Seminary was Joe's right hand around the kitchen. After the "extended retreat" Fr. Skip treated Ronnie and Joe to a couple more days — to visit Carmel and the Monterey Peninsula. They went down the famous Big Sur coastline to the Benedictine Camaldolese community at New Camaldoli Hermitage — and visit the final resting places of Br. Joseph Barabie and Fr. Bernard Masicote, who both helped MSA Founder Fr. Eusebe Menard back in his early days.
Our next open retreat is already set for next May 19-20-21, 2023. Long distance pilgrims should come a day early and "extend" to the post-retreat excursion to the Carmel Mission Basilica and the New Camaldoli Hermitage down on the Big Sur coast. It will be hard to leave, guaranteed!
Fr. Skip Thompson is now ensconced in the Retreat House at the Santa Clara Parish in Oxnard, CA, pastored by Fr. John Wayne Love and 3 other priests. Fr. Skip is under contract with Bishop Robert Barron of the Santa Barbara Pastoral Region of the Archdiocese of Los Angeles. You can reach Fr. Skip to reserve a spot at his next retreat by emailing: frskip@santaclaraparish.org. Or call him at: 805-330-8260.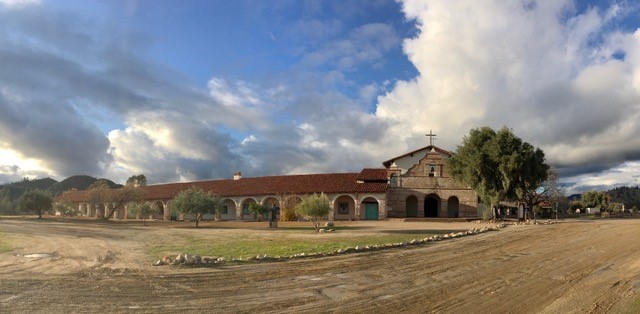 The old Mission San Antonio located in the southern end of the Monterey Diocese, CA was founded by St. Junipero Serra in 1771. It is the site of Fr. Skip Thompson's annual retreat every 3rd weekend of May.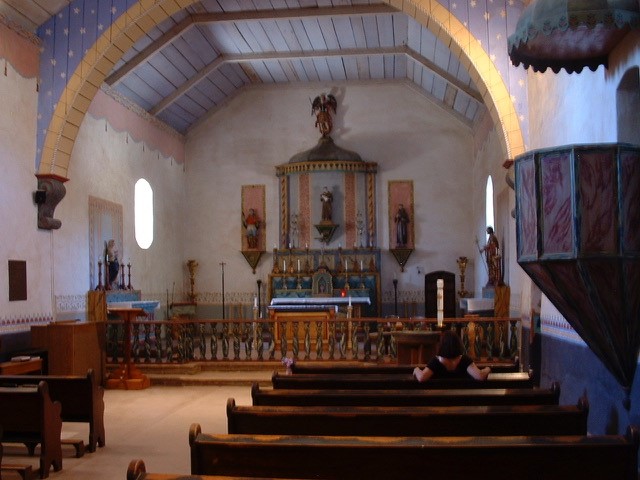 The mission church interior is simple elegance. Prayer has never been easier than in a place like this.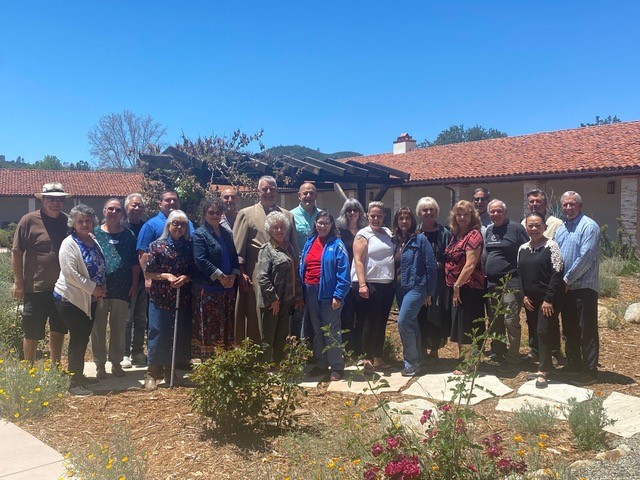 Retreatants pose in front of the original cloister well. Some journeyed from as far as 7 hours away — and have reserved their place for 2023 already.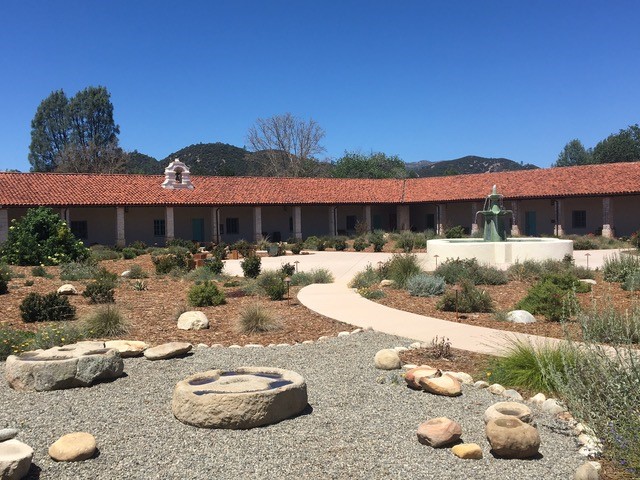 The newly landscaped cloister breezeways, courtyard and fountain. Perfect for meditation. In the foreground are old grinding stones for breaking down acorns and seeds.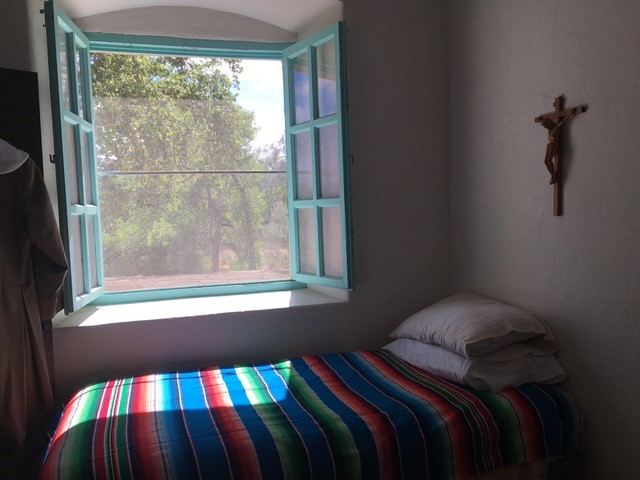 Typical cloister room for retreatants. Each features a sink, closet, 2 twin beds and 2 foot thick adobe walls that are the perfect insulator against cold nights and hot days.
Go Back